Perew's Electric Man and Other Inventions
Dublin Core
Title
Perew's Electric Man and Other Inventions
Description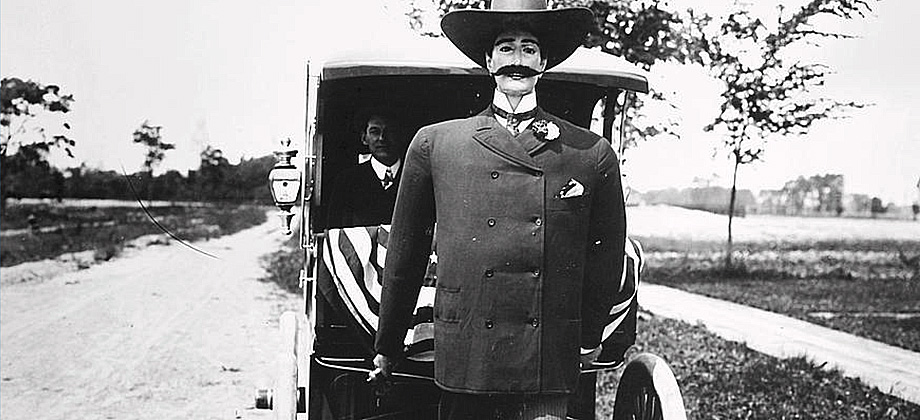 Louis Philip Perew (1862-1946) came to the Tonawandas at 17 in 1879 from Quebec. He came with his brothers and his father, a lake boat captain who settled on
Goose Island
.
He was a boat captain like his father, but was best known as an inventor. In addition to his Electric Man (which underwent many changes over the years as he refined the technology and sought a market), Perew is credited with developing anti-torpedo technology, a
canal electric trolley system
, a cigar lighter, and a
new merry-go-round system
. His inventions met with varying degrees of sucess.
He was associated with local merry-go-round makers
Gillie, Goddard and Company
. He and Goddard were implicated in one of the most horrific events in the Tonawandas history: the double murder by a mob of a canal boat captain and his son over a labor dispute in October of 1895. Neither was ultimately convicted.
Perew was an avid boat racer and builder, and owned a gasoline cruiser and a yacht in 1910s. In 1916, after the Webster Street bridge was destroyed by ice, he was hired to construct a temporary pontoon bridge while the bascule bridge was being built. In 1925 he has a store at 152 North Niagara Street in Tonawanda.
All that is plenty interesting. I don't know when this guy found time to sleep, but it turns out Perew also owned several "disorderly houses" on
Goose Island
. He runs afoul of the law quite often during Prohibition, and is involved in a very public bribery case against local police. Goose Island's bordellos and taverns would finally be closed down in the late 1930s. Perew lives all the way until 1946, owner of the White Star Hotel. The hotel seems a disreputable joint, with "Spanish dancing" girls and similar entertainments. Even though Goose Island was cleaned up in the 1930s, its spirit evidently moved across the canal into North Tonawanda. The address of the White Star Hotel? 46 Sweeney Street in North Tonawanda: the site of the present-day Alexander's Gentleman's Lounge.
Items