Martinsville
Dublin Core
Description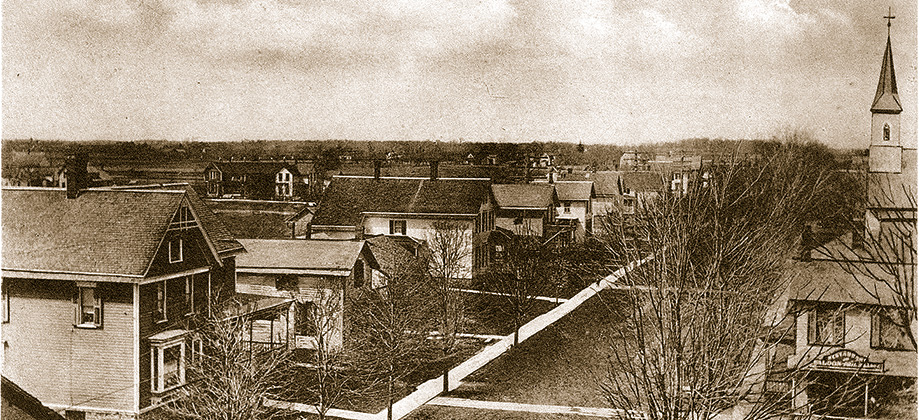 The northeast part of North Tonawanda known as "Martinsville" is named after the father of the Protestant Reformation, Martin Luther. It is settled by German Lutheran farmers, beginning around 1843. They settled in narrow farms along the west bank of Tonawanda Creek. As the area developed, a "downtown" emerged along William Street, present-day Old Falls Blvd, near Lockport Rd. (pictured above). The village boasted its own post office, stores and places of entertainment.
Most of Martinsville was incorporated into the then-booming City of North Tonawanda in 1897. The sections of Martinsville east of present-day Old Falls and Niagara Falls boulevards are considered part of Wheatfield.
The real estate transaction that brought many of the settlers to the area, its early growth, and the contentious religious devotion of its people are described in
History of Niagara County 1821-1878
:
In 1843 Carl Sack, Erdman Wurl and Fred Grosskopf purchased of William Vandervoote 400 acres, at $15 per acre, on the Tonawanda creek, in the southeast corner of the town, four miles east of Tonawanda village, in what is now known as the village of Martinsville. Lutheran religious antecedents caused the adoption of this name by the disciples of Martin Luther. The original purchase was divided into small lots of three acres and up- ward, as others were able to purchase, to provide for the location of thirty families the first season. They erected ten log houses in the autumn, each of which was occupied by three or four families during the winter and until joint efforts relieved the immigrants by building others. The families remained in Buffalo until the first houses were built, obtaining the best accommodations they could find. Forbidding as the prospect in the beginning must have been, it has been changed to the appearance of prosperity. The church organization is the controlling element in the government of the community, now consisting of one hundred families, connected with the two now existing, the result of divided feeling, but not an abandonment of the Lutheran faith.
Items